Doonside JRLC
News Report
News Update - 15th August 2017
Author: Bob Marsh, 15/08/17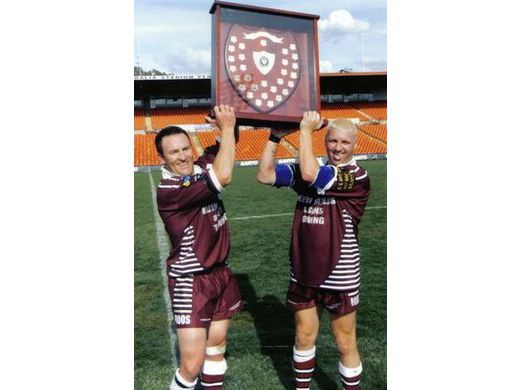 BIG YEAR FOR DOONSIDE

A great performance from our footy teams, in the Club's 50th Anniversary year.
No fewer than five Saturday teams have made it into their Grand Finals, and when you consider that we had only 9 teams playing competition on Saturdays, (Under 9's through to Under 15's, plus our Girls team), five out of nine is a marvellous effort by our kids.
In last Saturdays Finals, Justin Gregory's Under 12 (2)'s beat Glenmore Park (4) by 16 to 12, and Robbie Lees Under 15's made it five into the "Big One", with a 21 to 20 win over Glenmore Park (2), when Jermaine Teao potted a field goal to win the game.
Our A Grade are also into the Division 2 Grand Final on Sunday.
GRAND FINAL DETAILS:
- SATURDAY 19th AUGUST
KAREELA RESERVE – UNDER 12 DIV. 5 DOONSIDE v PENRITH WARATAHS 9:00am
PEPPERTREE COMPLEX – UNDER 10 DIV. 2 DOONSIDE v BROTHERS 12:40pm
WINDSOR OVAL – UNDER 15 DIV. 3 DOONSIDE v LOWER MOUNTAINS 2:00pm
LEONAY OVAL – UNDER 16 GIRLS DIV.2 DOONSIDE v MINCHINBURY 12:45pm
- SATURDAY 26th AUGUST
UNDER 12 DIV. 1 TIER B DOONSIDE v (tba)
- SUNDAY 20th AUGUST
WINDSOR OVAL – A GRADE DIV. 2 DOONSIDE v PENRITH WARATAHS 2:30pm
Best of Luck to all our players proudly wearing the maroon & white on the weekend.
CONGRATULATIONS...
Congratulations to our Under 12's that made it into PANTHERS CUBS SQUADS for next year. They are:
STUART CREGAN
LIAM NEWMAN
BLAKE GRAHAM
JACOB AUSTIN
JOHN-PAUL DONEVSKI
SEMISI FAASISILA
THOMAS EPERE
Congratulations also go to JAIDEN BREZINSKI, FEARON TEAO and KURT DIKS on being selected for the U15 Country Championships Trials.
And finally, Congratulations go to JERMAIN TEAO for being invited to the Harold Matts Trials Squad.
Well done boys, we are all very proud of you.
Bob Marsh
Follow the site to get the latest news and results straight to your email