Doonside JRLC
Timeline and Honours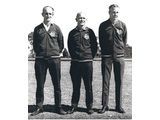 1968
The Foundation Office Bearers:
President: REX PETTIT
Secretary: BOB TURNER
Treasurer: CHARLIE STEIN
Vice Pres: N.STAIT
Asst. Secretary: WARREN WHEATLEY
Asst. Treasurer: G.LIGHTFOOT
Committee: LES JONES, A.BOLTE, JIM MALONE, D.LEE, D.WAREING, WILF DUTTON, B.MILES
The Club started in 1968 with only 4 teams, Under 10's, 11's, 12's and Under 14's.
Under 10's
Coach: COLIN BELL Manager: N.HARDIE The Squad: DARRYL PETTIT, MICHAEL HICKSON, MATT WAREING, E.CHABROS, C.GIBBINS, B.HECKENBURG, B.ROSS, B.WHITE, B.HARDIE, KEVIN BELL, G.BENSON, E.RUTKOWSKI, T.RANSE, NEIL GRONO, P.MALOUF, A.PETROV, D.WALDON, K.WILSON, G.EDWARDS, C.WINDMILL, R.FINN, R.VELS, G.TAYLOR, D.SULTANA
Awards: Best Player: KEV BELL Best Forward: N.GRONOW Best Back: M.HICKSON
Under 11's
Coach: WILF DUTTON Manager: G.RANSE The Squad: KEN GIBBINS, C.FINN, M.FROST, W.THOMAS, G.SMITH, M.BUCKLER, M.HOLDEN, IAN BROWNE, S.BRECHBUHL, P.JOHNSON, S.ROBERTS, C.WARD, KEVIN WHEATLEY, B.MARNEY, G.HOY, R.SANDERS, J.SEGEBATH, S.JOHNSTONE, J.GALWAY, I.DIXON
Awards: Best Player: KEN GIBBINS, Best Forward: M.FROST, Best Back: C.FINN
Under 12's
Coach: H.KOLASINSKI Manager: A.LIGHTFOOT The Squad: L.DOWNS, J.CHABROS, M.SUSLO, W.PERROTT, R.NEWMAN, N.PETTIT, K.O?BRIEN, Z.KALEMUSIC, FRED LUCAS, B.SMALLWOOD, PETER GRAY, R.REYNOLDS, G.HARGRAVES, J.AITCHISON
Awards: Best Player: P.GRAY Best Forward: Z.KALEMUSIC Best Back: G.HARGRAVES
Under 14's
Coaches: B.VAN-DUINEN ? B.GREENSLATE Manager: A.BOLTE. The Squad: I.FOWLER, ROBERT BASTOCK, G.GRAHAM, K.MICHALSKI, N.HARDIE, J.NALDER, T.DUCKMANTON, M.DEMPSEY, I.CONNELL, A.ROLLINSON, S.HAYES, M.SCULLY, PETER SCRUTON, R.DENNY, B.VAN-DUINEN, J.BARRETT, K.PERRY, F.KOHLMANHUBER, WAYNE ALLEN
Awards: Best Player: R.BASTOCK Best Forward: P.SCRUTON Best Back: J.FOWLER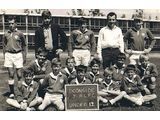 1969
President: REX PETTIT
Secretary: BOB TURNER
Treasurer: RON JUDGE
Vice Pres: WILF DUTTON
Asst. Secretary: WARREN WHEATLEY
Asst. treasurer: CHARLIE STEIN
Committee: J.RANSE ? G.RANSE ? Mrs M.PETTIT ? B.GREENSLADE ? A.BOLTE ? Mrs M.WHEATLEY ? ERNIE ATKINSON ? DARRELL SYMONS ? L.PALMER
The Club had 5 teams in 1969; Under 7's coached by Ron Judge Under 9's coached by J.Ranse Under 10's coached by Ernie Atkinson Under 12's coached by Wilf Dutton Under 15's coached by Gerry Scruton
Under 7's
Coach: RON JUDGE Manager: MRS. E .TURNER The Squad: SHANE VANDERHOEK ? M.TURNER ? R.WAREING ? M.RUSHWORTH ? L.WHITE ? B.HELLEGERS ? M.COOKE ? S.CANNON ? L.HARDY ? B.HEGARTY ? D.GOW ? M.SMITH ? P.EVANS ? W.GOW ? S.RATTRAY ? C.OXFORD ? M.SANDERS ? J.BURDON
Under 9's
Coach: J.RANSE Manager: G.RANSE The Squad: J.MALOUF ? S.BROWNING ? MARK ERREY ? STEPHEN JONES ? M.SMITH ? B.NIVEN ? V.TODOROVITCH ? M.HOPE ? RICKY NIVEN ? B.ROBSON, R.GAVRIC ? R.MUIR ? R.RUTKOWSKI ? S.GREEN ? G.ROBERTSON ? W.BEAL ? R.BURNETT
Awards: Best Player: R.GAVRIC Best Forward: S.JONES Best Back: M.ERREY
UNDER 12's
Coach: W.Dutton Manager: A.Hien The Squad: K.Gibbins ? R.Sanders ? H.Hien ? I.Browne ? G.Palmer ? M.Buckler ? K.Wheatley ? W.Thomas ? P.Coates ? V.Mahboub ? G.White ? J.Rowe ? A.Fuchs
Follow the site to get the latest news and results straight to your email
Contact List
Traci Reynolds
0435 429 056 / 02 8678 4854


Calendar
| Mon | Tue | Wed | Thu | Fri | Sat | Sun |
| --- | --- | --- | --- | --- | --- | --- |
| 1 | 2 | 3 | 4 | 5 | 6 | 7 |
| 8 | 9 | 10 | 11 | 12 | 13 | 14 |
| 15 | 16 | 17 | 18 | 19 | 20 | 21 |
| 22 | 23 | 24 | 25 | 26 | 27 | 28 |
| 29 | 30 | | | | | |